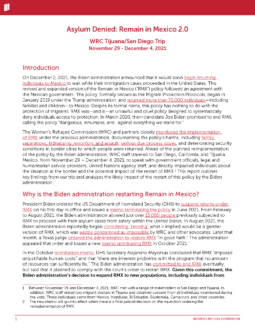 Reports
Asylum Denied: Remain in Mexico 2.0
Published
On December 2, 2021, the Biden administration announced that it would soon begin returning individuals to Mexico to wait while their immigration cases proceeded in the United States. This revived and expanded version of the Remain in Mexico ("RMX") policy followed an agreement with the Mexican government. The policy, formally known as the Migrant Protection Protocols, began in January 2019 under the Trump administration, and returned more than 70,000 individuals—including families and children—to Mexico. Despite its formal name, this policy has nothing to do with the protection of migrants. RMX was—and is—an unlawful and cruel policy designed to
systematically deny individuals access to protection.
Ahead of the planned reimplementation of the policy by the Biden administration, staff from the Women's Refugee Commission traveled to San Diego, California, and Tijuana, Mexico, from November 29–December 4, 2021, to speak with government officials, legal and humanitarian service providers, United Nations agency staff, and directly impacted individuals about the situation at the border and the potential impact of the restart of RMX. This report outlines key findings from the trip and analyzes the likely impact of the restart of this policy by the Biden administration.
Mexico
United States
Children
Migrant
Women
Asylum
Detention and Separation
Rights and Justice
Reports