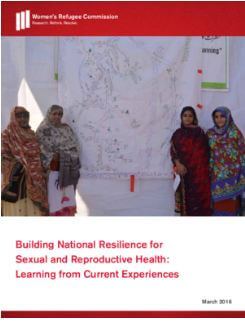 Reports
Building National Resilience for Sexual and Reproductive Health and Rights: Learning from Current Experiences
Published
There has been a recent increase in efforts to integrate sexual and reproductive health into emergency and disaster risk management for health have yielded many lessons. These efforts take a non-linear path based on opportunities, honest reflection and iterative processes. Further, where response capacity is overwhelmed in spite of preparedness efforts, adaptability and flexibility are essential to continuous improvement.
Critical areas for successful integration include: advocacy, coordination and partnerships, capacity-building, leadership, ownership, inclusion of community and at-risk groups, resilient primary health care systems, and financing. Community capacity programs are needed, as well as evidence and tools to support them. A strong evidence base of best practices can prevent SRH from being sidelined at the community level, laying the groundwork for optimal response when crises occur.
This analysis reviews programs from Eastern Europe and Central Asia region, Macedonia, and Pakistan.
Macedonia
Pakistan
Adolescent Girls
Women
Family Planning
Maternal, Newborn, and Child Health
Preparedness/Resilience
Sexual and Reproductive Health and Rights
Reports