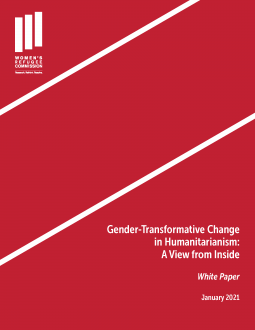 Gender-Transformative Change in Humanitarianism: A View from Inside
Published
In 2020, the Women's Refugee Commission studied how the experts who are charged with addressing gender inequality and creating gender transformative change in humanitarian response assess how well the system is doing. We are living in a time of unprecedented humanitarian need, with more people displaced by conflict and crises than ever before. Yet the global humanitarian system is widely considered to be unfit for purpose. We need a systemic change to humanitarian response: a shift from an inherently externally driven (often by the Global North) approach to one that is led by crisis-affected communities, particularly women, people of color, and other historically marginalized groups. It is time for humanitarian actors to engage in the processes and interventions needed to create equitable, inclusive, and sustainable change.
We focused primarily on staff in global north-based international organizations, which currently hold most of the resources—and power—to set the priorities and agenda for the humanitarian system. The research examined three key questions: 1. How well are humanitarian organizations doing on creating inclusive gender-transformative change? 2. What are the key factors to consider in creating gender-transformative change in humanitarian response? 3. What should humanitarian organizations do to advance gender transformative change? The study included an analytic desk review of specialized and gray literature, and key informant interviews with 50 gender and humanitarian experts in 25 organizations.
This study finds that a gender-transformative agenda must happen within humanitarian organizations in order for the operational work they do to actually achieve inclusive gender transformative outcomes. This internal organizational change must, importantly, center on hiring staff—especially leaders—with the capacity for and commitment to gender-transformative change.
Women
Gender Equality
Gender and Social Inclusion