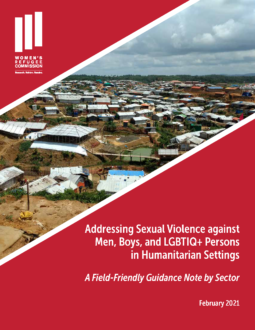 Technical Resources
Addressing Sexual Violence against Men, Boys, and LGBTIQ+ Persons in Humanitarian Settings: A Field-Friendly Guidance Note by Sector
Published
A growing body of evidence demonstrates that, in addition to women and girls, perpetrators target some men and boys, as well as lesbian, gay, bisexual, transgender, intersex, queer, and other (LGBTIQ+) individuals with diverse sexual orientation, gender identity or expression, and sex characteristics for sexual violence in conflict, flight, and displacement. (1) From 2018 to 2019, the Women's Refugee Commission's sexual violence project undertook exploratory research in three refugee settings. (2) Despite some service availability across settings, the study found high unmet needs among men, boy, and LGBTIQ+ survivors.
WRC developed this Guidance Note in response to these needs. The aim of the Guidance Note is to outline key actions and considerations for service provision per sector to support frontline workers to better address sexual violence against men, boys, and LGBTIQ+ persons.
1. Note about terminology: we recognize that the language "men, boys, and LGBTIQ+ persons" is problematic given that many gay, bisexual, queer, transgender, and other persons with diverse sexual orientation and gender identity/expression also identify as men and boys. We use this language for readability purposes and to draw particular attention to LGBTIQ+ persons. See Definitions at end of the Note for definitions related to sexual orientation, gender identity, sexual violence, and other key concepts.
LGBTQI Community
Men and Boys
Youth
Sexual and Gender-Based Violence
Technical Resources