This blog was cross-posted from Medium.
Can you remember the first time you talked to someone about puberty? Maybe it was telling your mother when you got your period, or asking your older sister about wearing a bra. At 11 or 12 years old, it's likely you were embarrassed, even to talk to someone close to you. Now imagine, at that age, if a stranger came to ask you about all the embarrassing changes your body was going through or wanted to know what girls your age thought about pregnancy and marriage. How likely would you be to open up and fully express your concerns and your needs?
Even when adolescents feel comfortable sharing sensitive information, it can be difficult to express needs and priorities about topics that they are unaware of. For example, how can a 16-year-old girl express a need for contraception if she does not know that it is possible for a girl her age to get pregnant? Or why would she describe a lack of menstrual hygiene materials as a major challenge if she is not fully aware of what products are available?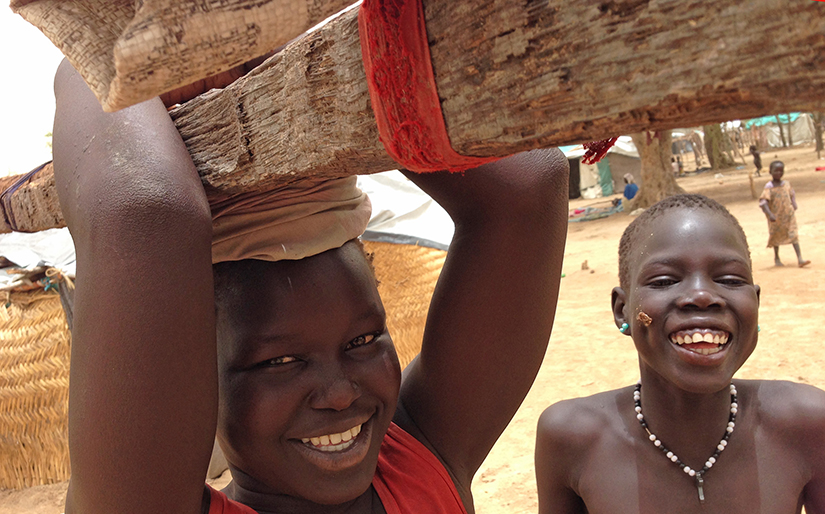 Adolescent girls in South Sudan © Omar Robles, Women's Refugee Commission
Research on adolescent sexual and reproductive health has traditionally used surveys or focus group discussions to understand the physical, emotional, and social changes that young people experience as they move from childhood to adulthood. But in many settings, these research approaches fail to build rapport with adolescents, and may not consider the unique ways in which young people express their knowledge and views.
These challenges are particularly important in communities affected by conflict or displacement. The disruption of social structures, such as schools, community groups, and extended family networks, means that young people must often start relying on outsiders for information and services. There may be limited trust, language barriers, or difficulty expressing needs that are relevant to their given context. At the same time, availability of sexual and reproductive health (SRH) information and services in these settings is limited, and girls are at a heightened risk of sexual violence, unintended pregnancy, unsafe abortion, sexually transmitted infections (STIs), and other negative reproductive health outcomes. It is therefore paramount to understand the needs of adolescents and the challenges they face, while also using findings to inform programs and services.
For the past year, the Women's Refugee Commission (WRC) has been working with UNICEF to develop innovative approaches to understanding the SRH-related needs and priorities of adolescent girls affected by conflict or displacement. These approaches have been piloted in Bangladesh, Lebanon, and Iraq to inform programming that truly responds to the needs and priorities of adolescent girls. In doing so, we have learned a great deal about what does and doesn't work when conducting research on sensitive subjects with adolescent girls.
First and foremost, we have learned how important it is for adolescent girls to be informed of the research by a trusted source, whether that is a facilitator of a program they are already attending, a health worker, or a community leader. Equally important is the involvement of adolescent girls' parents or caregivers: to inform them of the research, why it is taking place, and how it may benefit adolescent girls in their community. Of course, speaking to parents and caregivers about the needs of adolescent girls is also necessary, as they are often critical decision-makers and sources of support for adolescent girls.
It is essential for the researcher to speak the same language and dialect as participants. In Cox's Bazar, Bangladesh, for example, research is often conducted with Rohingya refugees from Myanmar using the Bangladeshi Chittainga language instead of the Rohingya language. While the two languages are similar, they are different enough that it can be difficult for the Rohingya population to understand Chittainga, and difficult for facilitators to understand the Rohingya language. Adolescents may tailor their speech to help the facilitator understand them, or may use terms that aren't typically used when they are speaking to other native Rohingya speakers. Having someone who speaks the local dialect helps girls to feel at ease to talk freely.
The age and background of the facilitator is also vitally important. Of course, when speaking to adolescent girls, the facilitator should be female. Depending on the context, it might be preferable to use a younger facilitator, so girls feel they are speaking to a friend or older sister; in other contexts, speaking to an older woman might be more comfortable. The facilitator should avoid using research jargon, and emphasize that she is there to learn from the participants, not the other way around.
We used several research methodologies in Bangladesh, Iraq, and Lebanon, each of which emphasized active participation of adolescents. The most popular approach in all three settings was body mapping: Girls were asked to draw three pictures – one of a young girl, age 6 or 7; one of a girl their own age; and one of an adult woman. They worked in small groups and were given ample time to draw these pictures. The facilitator circulated and encouraged girls to draw not only what the girl looks like, but also to show how she is feeling, what she likes to do, and what she is thinking about. They also reminded girls to think about all the changes that happen from the time a girl is a child to the time she is an adult.
The facilitator can probe girls in the smaller groups to describe the changes that they are drawing, helping the girls to feel more comfortable to share information about potentially embarrassing changes they go through. Using the drawings, the facilitator can guide conversation about the challenges girls face during adolescence, who they usually go to for information, where they go for SRH services, and what additional information or services they would like to have.
Using the body mapping approach helps not only with comfort, but also helps girls to articulate needs that they might not identify otherwise. By seeing the differences between a young girl, an adolescent, and an adult woman, participants are able to more concretely describe what would ease the transition from childhood to adulthood. Additional activities, such as participatory ranking, storytelling, and community mapping, can be added on to further explore how interventions can best integrate girls' perspectives in program design and implementation.
WRC will be describing these methodologies and lessons learned in greater detail on a panel at this week's Women Deliver Conference in Vancouver, Canada. This is not the only session that explores how to better engage adolescents in research, program design, and service delivery. Researchers, program staff, and policy makers are realizing more and more how important it is to move away from traditional approaches of understanding what adolescents need. While we may be able to think back to those embarrassing moments first telling someone we got our period, or learning about pregnancy in school, we are not able to know what adolescents today, and in different settings around the world, truly need to live safe and healthy lives. Instead, we must give adolescents the opportunity to describe their lived experiences in a way that is comfortable, productive, and empowering. Only then can we adequately build a protective environment that responds to their many challenges – and opportunities – for growth.
—-
If you're at WD2019, visit us at Booth #124 in the Fueling Station
Sexual and Reproductive Health