Events
2020 Voices of Courage Luncheon
Watch our special Virtual Voices of Courage event, which celebrates WRC's impact, our partners, and our 2020 Voices of Courage honorees. While the global COVID-19 pandemic means we couldn't gather in person, we didn't let that stop us from connecting with you, our beautiful community, albeit remotely.
The Voices of Courage Luncheon raises mission-critical support, and our work continues uninterrupted. Your support is more crucial than ever. Please make a gift today.
Our Host
Sarah Costa, executive director, Women's Refugee Commission
Featuring
The premiere of "Voices of Courage," a short film celebrating WRC's year of accomplishments and partnerships
A conversation with our inspiring 2020 Voices of Courage honorees, featured below, moderated by Jacqueline Hart, WRC's senior director for strategy
A tribute to WRC's musical partnerships and The Lantern Tour
A live discussion on YouTube
Special Performance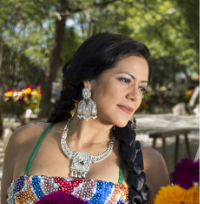 Grammy Award-winning artist Lila Downs will perform during the Virtual Voices of Courage.
2020 Voices of Courage Award Recipients
Karina Ambartsoumian-Clough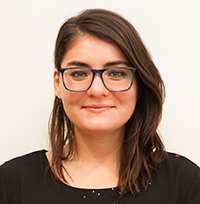 Karina Ambartsoumian-Clough is the co-founder of United Stateless, the first U.S.-based organization led by stateless people whose mission is to advocate for the stateless community writ large.
At the age of three, Ms. Ambartsoumian-Clough and her family fled civil unrest and oppression in the Soviet Union and settled in the United States. When she was 16, she discovered that she was stateless because her country of birth no longer exists, the country that replaced it does not recognize her Soviet birth certificate, and the United States does not have a legal framework to recognize and protect stateless people. In legal limbo, with no means to self-identify, Ms. Ambartsoumian-Clough became undocumented, with limited to no access to education, employment, health care, and mobility. Even after she married a U.S. citizen, her husband could not pass his U.S. citizenship to his wife because she was stateless.
Fortunately, Ms. Ambartsoumian-Clough discovered she was eligible for Deferred Action for Childhood Arrivals (DACA), which granted her leave to stay in the U.S. Despite the personal risk under the current administration, Ms. Ambartsoumian-Clough, with six fellow stateless people, founded United Stateless two years ago and chose to take a very public and outspoken role advocating on behalf of stateless persons in the United States and around the world.
Dr. Susan Gana Okonkwo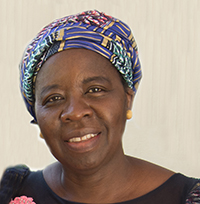 Dr. Susan Gana Okonkwo, an obstetrician and gynecologist from the community of Maiduguri in Borno State, Nigeria, is the founder and CEO of the Mwada-Gana Foundation. The foundation's mission is to provide health services to women and children in conflict-affected communities that are remote or without health facilities in northeastern Nigeria, a region that has experienced an influx of displaced people as a result of the Boko Haram insurgency, among other security challenges.
In addition to providing obstetric care to women and care for newborns and children, Dr. Okonkwo and her colleagues work with the local health ministry to recruit, train, and deploy village health workers, who will provide community-based care, develop community emergency transport systems, and generate demand for medical facilities. This project also entails working alongside the local government to strength and scale up the health ministry's capacity to provide reproductive, maternal, newborn child, and adolescent care.
Prior to working to advance the sexual and reproductive health and rights in her own community, Dr. Okonkwo worked with women in conflict settings around the world, including as a gynecologist for Médecins Sans Frontières (Doctors without Borders) in Afghanistan and for Aspen Medical in Mosul, Iraq.
Yasmin Kayali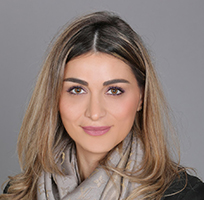 Yasmin Kayali, a Syrian national who now resides in Lebanon, co-founded Basmeh and Zeitooneh (B&Z), an organization that develops and runs community centers for Syrian refugees in camp and urban settings in Lebanon, Turkey, and Kurdistan. The mission of the organization is to empower Syrians in exile to be able to live lives of dignity and to design and deliver effective relief, education, livelihood, and protection services.
Recognizing that displacement has left many women as sole family supports and shifted gender roles, B&Z has been instrumental in creating safe spaces for Syrian refugees and developing programs that provide women with skills to build livelihoods and businesses to support their families. They have also established programs to help shift the gender attitudes that contribute to women and girls being prevented from achieving their full potential in their communities. Through the vision of Ms. Kayali and B&Z's other co-founders, refugee women are able to develop greater resilience and become more self-reliant.
Our Generous Sponsors*
Premier Sponsors
Anonymous
Principal Sponsors
Martha Gallo
Leadership Sponsors
AIG
Madelyn Bucksbaum Adamson
Ashurst Foundation
Joy Bunson
Elizabeth L. Daniels
Silver Mountain Foundation for the Arts
Ivana Stolnik
Sandra Sennett Tully
Marissa Wesely
Patron Sponsors
Anne Bianchi Gundersen Foundation, David Bohonnon Trustee
Blackbaud, Inc.
Julie Hembrock Daum
Jodie Eastman
The Frances Lear Foundation
The Friedman Family Foundation
Barbara McIntyre Hack
Michele Logan
Benefactor Sponsors
Jo Ellen Finkel
Jane Olson
Regina S. Peruggi
*as of March 27, 2020
---
View Previous Voices of Courage Awards Luncheons
Each year the Women's Refugee Commission holds a luncheon to honor individual refugee women and young people who are working on behalf of other refugees. Learn more about our previous luncheons and honorees.