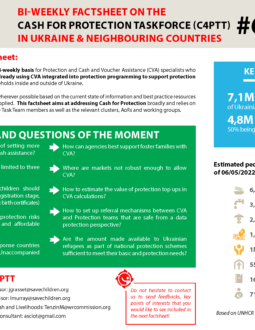 One-pagers
Factsheet on the Cash for Protection Taskforce in Ukraine & Neighbouring Countries
Published | Updated
This factsheet collates key updates, findings, and resources as drawn from Humanitarian Impact situation Reports; minutes from the Cash Working Group (CWG), Protection Cluster and sub-cluster/AoR meetings; IOM; UNHCR and other UN sources.
It had been produced on a bi-weekly basis in 2022 for Protection and Cash and Voucher Assistance (CVA) specialists who are considering, planning for, or already using CVA integrated into protection programming to support protection outcomes for individuals and households inside and outside of Ukraine. Key findings are paired with "hints" wherever possible based on the current state of information and best practice resources on how CVA for Protection can be applied.
This factsheet aims to address Cash for Protection broadly, but is not representative of all findings, as it is as strong as contributions from Task Team Members as well most important updates shared within both Protection clusters and sub-clusters, as well as from the different active cash working groups.
Learn more about WRC's work responding to the humanitarian crisis in Ukraine.
Ukraine
Europe
Adolescent Girls
Women
Cash Transfers
Economic Empowerment and Self-Reliance
Sexual and Gender-Based Violence
One-pagers