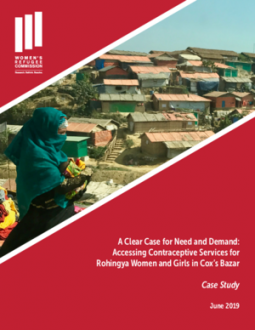 Reports
A Clear Case for Need and Demand: Accessing Contraceptive Services for Rohingya Women and Girls in Cox's Bazar
Published
As of January 2019, nearly one million Rohingya individuals who had fled ethnic violence in Rakhine State, Myanmar, were living in refugee camps in the Cox's Bazar district of Bangladesh. Over half of the refugees in the camps are women and girls of reproductive age, underscoring the critical need for sexual and reproductive health (SRH) services, including contraception, in the camps.
Forcibly displaced women and girls face a range of SRH concerns, including increased risks of maternal morbidity, mortality, and sexual and gender-based violence; higher risks of sexually transmitted infections; higher risks of unintended pregnancy; and higher risks of unsafe abortion, with its associated complications. Therefore, contraceptive services, including long-acting and short-acting contraceptive methods, menstrual regulation (MR) services, and post-abortion care are included in internationally accepted minimum standards for humanitarian health response.
In January 2019, the Women's Refugee Commission (WRC) conducted a case study of contraceptive service delivery in the refugee camps of Cox's Bazar, which aimed to document the important work that humanitarian actors and other stakeholders are undertaking to provide contraceptive services and MR in the refugee camps; to highlight challenges; and to document how some of these challenges were overcome.
Bangladesh
Myanmar
Women
Family Planning
Maternal Health
Sexual and Reproductive Health and Rights
Reports
A Clear Case for Need and Demand: Accessing Contraceptive Services for Rohingya Women and Girls in Cox's Bazar