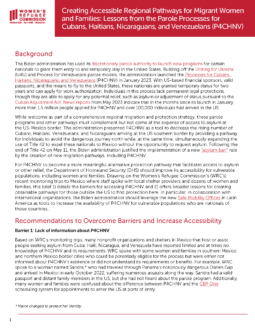 Advocacy Brief
Creating Accessible Regional Pathways for Migrant Women and Families: Lessons from the Parole Processes for Cubans, Haitians, Nicaraguans, and Venezuelans
Published
In January 2023, the Biden administration launched a new program that allows certain nationals from Cuba, Haiti, Nicaragua, and Venezuela to enter and stay in the United States on a temporary basis. Nationals of these countries who have US-based financial sponsors, valid passports, and the means to fly to the United States are granted temporary status for two years and can apply for work authorization. Individuals in this process lack permanent legal protections, although they can apply for asylum or adjustment of status.
While the Women's Refugee Commission (WRC) welcomes parole programs such as Processes for Cubans, Haitians, Nicaraguans, and Venezuelans (P4CHNV) as part of a comprehensive regional migration and protection strategy, they must complement but not come at the expense of access to asylum at the US-Mexico border.
In a new policy brief, we describe the barriers that nationals from Cuba, Haiti, Nicaragua, and Venezuela face in accessing P4CHNV and make recommendations on how to improve access. Our findings and recommendations are based on recent monitoring trips to Mexico where staff spoke with local shelter providers and dozens of women and families.
Cuba
Haiti
Mexico
United States
Venezuela
Nicaragua
Panama
Children
Migrant
Women
Rights and Justice
Advocacy Brief