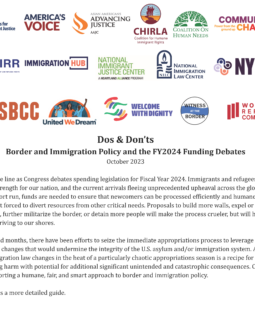 Advocacy Brief
Dos & Don'ts: Border and Immigration Policy and the FY2024 Funding Debates
Published
There is a lot on the line as Congress debates spending legislation for Fiscal Year 2024. Immigrants and refugees have always been a source of strength for our nation, and the current arrivals fleeing unprecedented upheaval across the globe are no different. In the short run, funds are needed to ensure that newcomers can be processed efficiently and humanely and that local governments aren't forced to divert resources from other critical needs. Proposals to build more walls, expel or block those seeking protection, further militarize the border, or detain more people will make the process crueler, but will have little impact on the numbers arriving to our shores.
In recent weeks and months, there have been efforts to seize the immediate appropriations process to leverage permanent and counterproductive changes that would undermine the integrity of the US asylum and/or immigration system. Attempting to make lasting immigration law changes in the heat of a particularly chaotic appropriations season is a recipe for legislation that will cause enduring harm with potential for additional significant unintended and catastrophic consequences.
The Women's Refugee Commission joined a group of organizations in developing a guide to inform FY2024 border and immigration funding in Congress. Our organizations are united in supporting a humane, fair, and smart approach to border and immigration policy.
United States
North America
Migrant
Asylum
Detention and Separation
Rights and Justice
Advocacy Brief