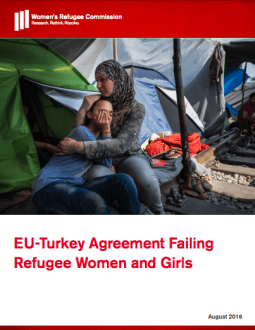 Reports
The EU-Turkey Agreement Fails Refugee Women and Girls
Published
The closure of the Balkans route and the subsequent European Union-Turkey agreement to reduce the flow of refugees into Europe is nothing short of a protection and legal disaster for refugees, particularly women and girls.
Since the deal was passed, the situation for refugees in Greece has grown increasingly dire. In particular, women and girls, are vulnerable to alarming gaps in services and protection. They risk sexual assault, extortion, exploitation, and rights violations. Many experienced and ready-to-assist local and international aid groups on the ground have been sidelined.
In addition to poor living conditions, the absence of a clear and sufficiently-resourced and staffed legal protection system in Greece further compounds refugees' misery and anxiety. Aid and legal help are often limited to those of certain nationalities, leaving many others in desperate need of assistance and protection.
Turkey
Migrant
Women
Gender and Social Inclusion
Sexual and Gender-Based Violence
Reports