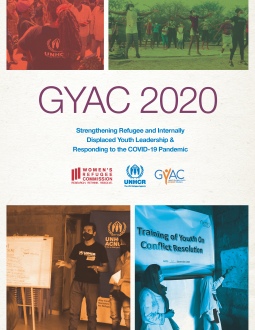 Annual Reports
Global Youth Advisory Council (GYAC) 2020 Annual Report
Published
The Global Youth Advisory Council serves as a consultative group that advocates on issues relating to the protection and development of young people who are refugees, internally displaced or stateless and their communities. The 2020 Annual Report showcases the work and impact of the GYAC.
The GYAC works with refugees, internally displaced persons and the host community in countries of asylum and in countries of resettlement to bring a youth perspective on a broad range of issues into the work of the Office of the United Nations High Commissioner for Refugees (UNHCR) at all levels.
The UN High Commissioner for Refugees appointed the first Global Youth Advisory Council (GYAC) in December 2017 in order to create a sustainable mechanism to facilitate the engagement of young people of concern in policy and practice and to further advance UNHCR's work with and for youth.
Youth
Gender and Social Inclusion
Annual Reports