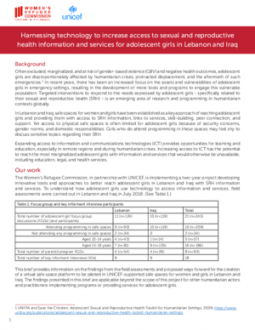 Reports
Harnessing technology to increase access to sexual and reproductive health information and services for adolescent girls in Lebanon and Iraq
Published
Targeted interventions to respond to the needs expressed by adolescent girls – specifically related to their sexual and reproductive health (SRH) – is an emerging area of research and programming in humanitarian contexts globally.
Expanding access to information and communications technologies (ICT) provides opportunities for learning and education, especially in remote regions and during humanitarian crises. Increasing access to ICT has the potential to reach the most marginalized adolescent girls with information and services that would otherwise be unavailable, including education, legal, and health services.
To understand how adolescent girls use technology to access information and services, the Women's Refugee Commission, in partnership with UNICEF, carried out field assessments in Lebanon and Iraq in July 2018.
Iraq
Lebanon
Adolescent Girls
Family Planning
Sexual and Reproductive Health
Reports