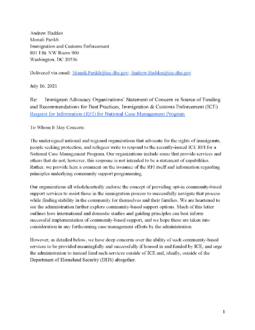 Immigrant Advocacy Organizations' Statement of Concern on Source of Funding and Recommendations for Best Practices, Immigration and Customs Enforcement (ICE)
The Women's Refugee Commission joined dozens of national and regional organizations advocating for refugee, asylum seeker, and immigrant rights in a written response to the recently-issued Immigration and Customs Enforcement (ICE) Request for Information (RFI) for National Case Management Program. We provide here a comment on the issuance of the RFI itself and information regarding principles underlying community support programming.
The letter emphasizes that while interest in community-based programming for those in the immigration process is a welcome development, there is concern over the possibility of connecting community-based services to ICE and ICE funding. The letter details the principles and evidence-based best practices that organizations hope to see inform community-based services in the future, including the importance of housing these services and their funding in a separate agency.
North America
Migrant
Asylum
Detention and Separation
Rights and Justice