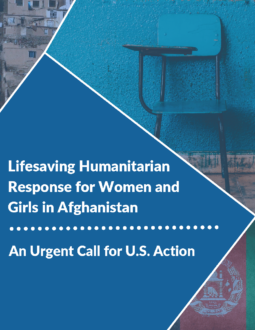 One-pagers
Lifesaving Humanitarian Response for Women and Girls in Afghanistan: An Urgent Call for US Action
Published
Violent conflict, a devastating drought, and food insecurity affecting over half the population in Afghanistan are driving one of the worst humanitarian crises in the world. Assessments indicate this emergency will exponentially grow as Afghanistan's economy teeters on the edge of total collapse and the country remains almost entirely dependent on external aid. Urgent action is needed to address the looming famine and avert a humanitarian catastrophe that will impact women and girls and other marginalized groups the most.
This brief outlines recommendations for urgent US action. Over the 20 years of US engagement in Afghanistan, Afghan women and girls made tremendous gains in securing their rights to education, political participation, and economic inclusion. However, since the fall of the government, the rights of women and girls and other marginalized groups have suffered significant rollbacks, including death threats by the Taliban, barriers to accessing lifesaving services and resources, and human rights abuses. Against the backdrop of the broader humanitarian emergency in Afghanistan, these setbacks in women's and girls' rights are having deep and disproportionate impacts on their health, safety, and access to lifesaving assistance.
The Women's Refugee Commission developed this brief in partnership with Refugees International, Alliance for Peacebuilding, Mina's List, Georgetown Institute for Women, Peace and Security, Human Rights Watch, VOICE Amplified, and Futures Without Violence.
Afghanistan
Asia
Adolescent Girls
Women
Youth
Child Marriage
Family Planning
Gender Equality
Maternal, Newborn, and Child Health
Gender and Social Inclusion
Rights and Justice
Sexual and Gender-Based Violence
Sexual and Reproductive Health and Rights
One-pagers