Events
2023 Voices of Courage Awards Luncheon

The Women's Refugee Commission advances transformative change in humanitarian settings around the world, with results that are far-reaching for refugees, asylum-seekers, and displaced people.
Please join us as we celebrate our achievements and honor exemplary leaders who stand for justice, gender equality, and the lives and rights of refugee women and children.
Reception: 11:30 a.m. ET
Luncheon and Program: Noon to 2:00 p.m. ET
For more information, contact us at: WRCevents@wrcommission.org
---
2023 Voices of Courage Honorees
The Women's Refugee Commission will celebrate our 2023 Voices of Courage honorees.
Mahbouba Seraj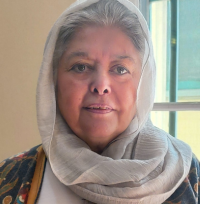 Mahbouba Seraj is the executive director of Afghan Women Skills Development Centre (AWSDC) and the president of the board of the Afghan Women's Network (AWN). AWSDC operates safe houses for internally displaced families and domestic violence survivors in Kabul. It is the only one that remains open following the Taliban's takeover of Afghanistan in August 2021, as the Taliban deemed safe houses illegal.
Mahbouba fled Afghanistan during the Russian occupation in 1978. She returned to Afghanistan in 2003 after 25 years in exile in the United States. Despite the danger she faces in Taliban-controlled Afghanistan as a prominent women's human rights defender, she chose to remain in the country following the takeover.
She is a tireless advocate for women's rights and supported women parliamentarians with campaigning and fundraising. She created and hosted a radio show "Our Beloved Afghanistan by Mahbouba Seraj," which has been broadcast across the country.
Halyna Skipalska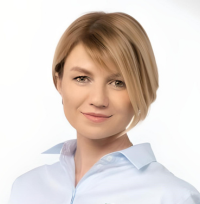 Halyna Skipalska is a dedicated human rights activist and well-recognized gender expert in Ukraine. She is the country director in Ukraine for HealthRight International, a global health and human rights organization, and the executive director of the Ukrainian Foundation for Public Health.
Halyna is actively engaged in national reform initiatives providing specialized services for survivors of domestic violence/gender-based violence (DV/GBV). In response to Russia's military offensive against Ukraine in February 2022, she developed new initiatives to address emerging challenges of the humanitarian crisis and the mass displacement of Ukrainians. In 2022, her organizations provided social, psychological, and legal services to more than 400,000 women and children in Ukraine.
Halyna is a PhD fellow at the Borys Grinchenko Kyiv University. She has held numerous fellowships with the Austrian and Swedish governments and with UNESCO.
---
Leadership Award
Welcome.US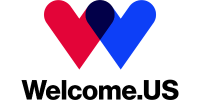 Welcome.US is a national initiative built to inspire, mobilize, and empower Americans from all corners of the country to welcome and to support people seeking refuge in the United States and help them thrive.
The leadership award will be accepted by Nazanin Ash, chief executive officer for Welcome.US.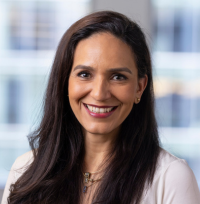 Nazanin Ash brings decades of experience in the areas of refugees, integration, coalition building, and policy to her role as Welcome.US's chief executive officer. She was most recently the vice president of global policy and advocacy at the International Rescue Committee, which serves people in crisis in over 40 countries and resettles refugees in 25 US cities. Previously, Nazanin served as deputy assistant secretary in the Bureau of Near Eastern Affairs at the Department of State, leading the Middle East Partnership Initiative and working to advance political and economic reform in the Middle East. From June 2007 to April 2012, she served on the secretary of state's policy planning staff, designing initiatives to strengthen US government aid effectiveness and approaches to political and economic development. Nazanin also served as principal advisor and chief of staff to the first director of US foreign assistance and administrator at USAID, designing strategies for US foreign assistance reform and policies for allocating foreign assistance. Prior to this, Nazanin worked for ActionAid–Kenya, one of the largest rights-based NGOs in Kenya and a leading advocacy and local capacity-building institution. She holds a master's in public policy degree from Harvard University's John F. Kennedy School of Government and a bachelor's degree in political science from Bryn Mawr College.
---
Lifetime Achievement Award
Linda Thomas-Greenfield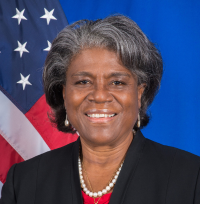 Ambassador Linda Thomas-Greenfield was nominated by President Joseph R. Biden, Jr. to be the representative of the United States of America to the United Nations (UN) as well as the representative of the United States of America in the UN Security Council on January 20, 2021. She was sworn in on February 24, 2021 by Vice President Kamala Harris. Ambassador Thomas-Greenfield, a career diplomat, returned to public service after retiring from a 35-year career with the US Foreign Service in 2017. She served as the assistant secretary of state for African affairs (2013-2017), where her leadership focused on development and management of US policy toward sub-Saharan Africa. She also served as the Foreign Service's director general and human resources director.
Ambassador Thomas-Greenfield held an ambassadorship to Liberia (2008-2012) and postings in Switzerland, Pakistan, Kenya, The Gambia, Nigeria, and Jamaica. In Washington, she was principal deputy assistant secretary of the Bureau of African Affairs (2006-2008) and deputy assistant secretary of the Bureau of Population, Refugees, and Migration (2004-2006).
In 2017, Ambassador Thomas-Greenfield led the Africa Practice at Albright Stonebridge Group, chaired by former Secretary of State Madeleine Albright. She was also the inaugural distinguished resident fellow in African studies at the Institute for the Study of Diplomacy at Georgetown University (2017-2019).
Ambassador Thomas-Greenfield received the 2017 University of Minnesota Hubert Humphrey Public Leadership Award, the 2015 Bishop John T. Walker Distinguished Humanitarian Service Award, and the 2000 Warren Christopher Award for Outstanding Achievement in Global Affairs. She holds a bachelor's degree from Louisiana State University and a master's degree from the University of Wisconsin, where she completed doctorate coursework. She has an honorary law degree from the University of Wisconsin and an honorary degree from the University of Liberia.
---
Special Guests
Moderator: Jessica Bruder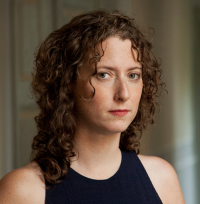 The conversation with our 2023 Voices of Courage honorees will be moderated by Jessica Bruder.
Jessica Bruder is a journalist and the author of Nomadland: Surviving America in the Twenty-First Century, a New York Times bestseller that has been translated into 24 languages and adapted into an Oscar-winning film of the same name.
She writes for magazines, teaches at Columbia Journalism School, and lives in Brooklyn, New York.
---
Musical Guest
Ruby Amanfu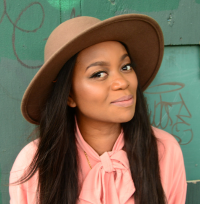 WRC's 2023 Voices of Courage will feature our special musical guest Ruby Amanfu.
Ruby Amanfu is a Ghana-born, Nashville-based Grammy, Soul Train, and BET Award-nominated songwriter and recording artist. Her accolades include co-writing Grammy-nominated Songs of the Year, "Hard Place" for the artist H.E.R. and "A Beautiful Noise" for artists Alicia Keys and Brandi Carlile.
Having written and recorded music since her teens, Ruby has released eight critically acclaimed solo studio albums and her songs have appeared on ABC, CBS, Fox, CMT, MTV, Netflix, Hulu, and The Food Network.
Her vocals appear on Beyoncé's song "Don't Hurt Yourself" on the Grammy-winning album Lemonade, on Norah Jones' album Pick Me Up Off the Floor, and alongside Jack White on the White Stripes singer-guitarist's solo LPs Blunderbuss and Lazaretto, highlighted by a performance of their collaboration, "Love Interruption," at the 55th Grammy Awards.
Outside of her vast musical career, Ruby is the current president of the Nashville Chapter of the Recording Academy, and an avid cook, wife, and stepmother.