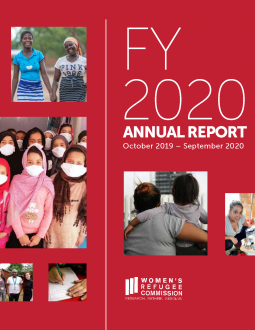 Annual Reports
2020 Annual Report
Published
The 2020 Annual Report highlights the work and impact of the Women's Refugee Commission during its fiscal year 2020.
Despite tremendous challenges during the COVID-19 pandemic, the Women's Refugee Commission has been able to pivot and continue our essential mission without interruption. We collaborated with partners around the world to bridge the gap between affected populations and local organizations in the field and the humanitarian system at large.
Our work this year demonstrates what we can do—together—even in the hardest of times, to tackle the entrenched disparities for displaced women and girls in access to rights, safety, livelihoods, food, well-being, and health care. It also reinforced our belief that when you rely on the strength of women, nothing is impossible.