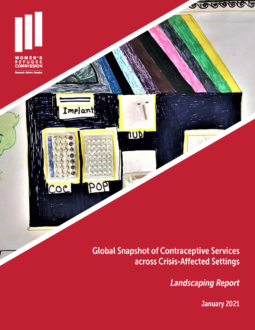 Reports
Global Snapshot of Contraceptive Services across Crisis-Affected Settings
Published
Access to contraceptive services is both a fundamental human right and a lifesaving public health intervention. (1) However, the Inter-agency Working Group on Reproductive Health in Crises (IAWG) 2012-2014 Global Evaluation found that the provision of contraceptive services, especially long-acting and permanent methods and emergency contraception, continues to be a gap in humanitarian health funding and programming. (2) This inattention not only does a significant disservice to crisis-affected individuals, it undercuts the efficacy of humanitarian assistance across the board. The global COVID-19 pandemic has only amplified the need for humanitarian assistance.
The Women's Refugee Commission (WRC) undertook a landscaping assessment to evaluate and build the evidence base on barriers, opportunities, and effective strategies to provide the full range of contraceptives, including new contraceptive technologies, to women, girls, and couples affected by crises.
The landscaping assessment comprises a literature review, global coverage survey of contraceptive service delivery in humanitarian settings (coverage survey), key informant interviews (KIIs) with stakeholders across the humanitarian-development nexus, and three case studies in diverse humanitarian settings. This document includes findings from the literature review, coverage survey, and a series of KIIs to solicit insights on how to sustain and scale contraceptive service delivery.
(1) S. Ahmed, Q. Li, L. Liu, and A.O. Tsui, "Maternal deaths averted by contraceptive use: an analysis of 172 countries," Lancet, 2012;380: 111–125. doi:10.1016/S0140-6736(12)60478-4.
(2) S.K. Chynoweth, "Advancing reproductive health on the humanitarian agenda: the 2012-2014 global review," Conflict and Health, 2015;9: I1. doi:10.1186/1752-1505-9-S1-I1.
Adolescent Girls
Women
Family Planning
Sexual and Reproductive Health and Rights
Reports