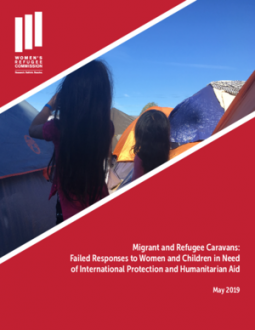 Reports
Migrant and Refugee Caravans: Failed Responses to Women and Children in Need of International Protection and Humanitarian Aid
Published
Over the last decade, a growing number of Central Americans have been forced to flee their countries of origin due to widespread criminal violence, life-threatening gender and domestic violence, and extreme economic hardship. Between October and December 2018, a large caravan that originated in Honduras made its way through Guatemala and Mexico—ultimately drawing an estimated total of more than 17,900 caravan members.
From November 26, 2018 to January 25, 2019, WRC assessed the protection risks faced by women, children, and families traveling in caravans through Mexico.
WRC interviewed members of the caravan and met with relevant authorities and key stakeholders, as well as representatives of the Mexican federal government in Mexico City and of national headquarters of international organizations and NGOs. Additionally, WRC conducted media monitoring and desk research.
This initial evaluation is a snapshot of a moving target and constantly changing dynamic and political context.
El Salvador
Mexico
Guatemala
Honduras
United States
Children
Migrant
Women
Asylum
Rights and Justice
Reports
Migrant and Refugee Caravans: report summary