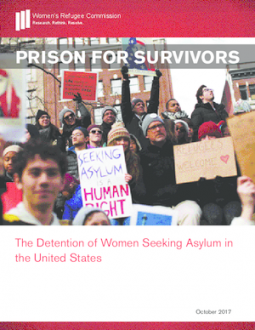 Reports
Prison for Survivors
Published
The Detention of Women Seeking Asylum in the U.S.
The U.S. immigration detention system is undergoing a fundamental and nearly unprecedented transformation, while at the same time, the number of people in detention has steadily been increasing for one population in particular: those seeking protection at the southern border, many of whom are women.
Alarmed at the increase in the detention of women seeking asylum, the Women's Refugee Commission (WRC) in 2016 and 2017 sought to document the conditions of detention, treatment, and obstacles to a fair asylum process that women in detention face. We visited seven detention facilities across four states including: Texas, California, Arizona, and New Mexico, spoke with numerous local service providers and advocates, analyzed government data, and interviewed nearly 150 women who were in need of protection but were instead detained, many for months.
KEY FINDINGS
More women are in detention than ever before, and the number of women and girls seeking asylum while in detention has grown exponentially
U.S. detention practices preclude meaningful due process and access to justice
Detention practices – both treatment and conditions – ignore the needs of women and impede access to protection
Arbitrary high bond and no-release policies kept and continue to keep asylum seekers detained and protection denied
Family separation violates family unity and undermines access to protection
United States
Migrant
Women
Asylum
Detention and Separation
Rights and Justice
Reports
Prison for Survivors Report