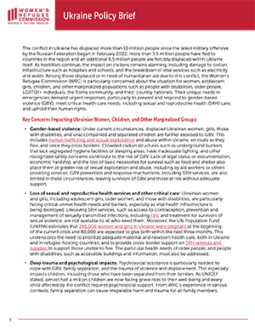 One-pagers
Ukraine Policy Brief
Published
The conflict in Ukraine has displaced more than 10 million people since the latest military offensive by the Russian Federation began in February 2022; more than 3.5 million people have fled to countries in the region and an additional 6.5 million people are forcibly displaced within Ukraine itself. As hostilities continue, the impact on civilians remains alarming, including damage to civilian infrastructure such as hospitals and schools, and the breakdown of vital services such as electricity and water. Among those displaced or in need of humanitarian aid due to this conflict, the Women's Refugee Commission (WRC) is particularly concerned about the situation for women, adolescent girls, children, and other marginalized populations such as people with disabilities, older people, LGBTQI+ individuals, the Roma community, and third-country nationals. Their unique needs in emergencies demand urgent responses, particularly to prevent and respond to gender-based violence (GBV); meet critical health care needs, including sexual and reproductive health (SRH) care; and uphold their human rights.
This policy brief outlines WRC's key concerns and our recommendations for policy and programming.
Learn more about WRC's work responding to the humanitarian crisis in Ukraine.
Ukraine
Europe
Adolescent Girls
Children
LGBTQI Community
Older Persons
People with Disabilities
Women
Youth
Gender and Social Inclusion
Sexual and Gender-Based Violence
Sexual and Reproductive Health and Rights
One-pagers