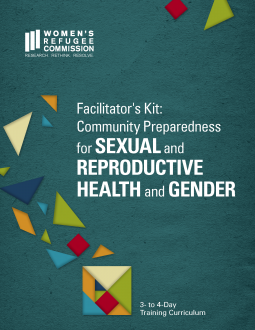 Facilitator's Kit: Community Preparedness for Reproductive Health and Gender
Published | Updated
A Resource for Communities in Disaster-Prone Areas
The Facilitator's Kit: Community-based Preparedness for Sexual and Reproductive Health and Rights and Gender is a three-day training that aims to build capacity at the community level to prepare for and respond to risks and inequities faced by women, girls, and marginalized and underserved sub-populations in emergencies. There is an optional additional half-day module on pandemic/epidemic preparedness.
The Facilitator's Kit is intended for use by district health policymakers, disaster management agencies, and program managers who are responsible for preparedness and rebuilding more resilient communities after a crisis. The curriculum is also designed for health providers and representatives from civil society groups and networks (women's groups, organizations of persons with disabilities, and other organizations of persons from marginalized and underserved groups) with a health background.
The kit includes guidance and tools for conducting community capacity and needs assessments; guidance for facilitators to prepare for workshops; a Quick Start Guide to provide step-by-step guidance on planning and organizing activities that are inclusive and accessible for people with disabilities and older people; a full three-day workshop curriculum with information and activities; handouts for participants; PowerPoint presentations; and an appendix of resources.
At the end of the training, participants will produce action plans and identify roles and responsibilities to implement and strengthen preparedness for sexual and reproductive health and gender in their communities.
The curriculum can be tailored for use in diverse contexts.
Older Persons
Women
Maternal, Newborn, and Child Health
Preparedness/Resilience
Sexual and Reproductive Health and Rights